Chief of Police, Doug Jones
Burlington Police Department
PO Box 207
616 South 3rd
Burlington, Kansas  66839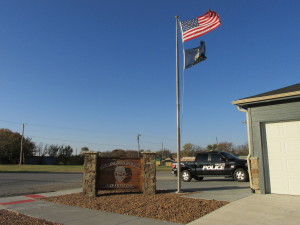 Telephone: 620-364-8757
After hours: Coffey County Sheriff's Office 620-364-2123
EMERGENCY:  9-1-1
FAX:  620-364-5635
OVERVIEW OF BURLINGTON POLICE DEPARTMENT
The Burlington Police Department provides public safety to the City of Burlington. Officers are on duty 24 hours a day, seven days a week. Some of the police department's responsibilities and services include protecting lives and property, enforcing laws, apprehending criminals, recovering stolen property, locating missing persons, traffic safety, maintaining a close working relationship with other public safety agencies, as well as a wide variety of other types of calls. The Burlington Police Department maintains its offices at 616 South Third Street. Regular office hours are Monday through Friday, 8 a.m. to 5 p.m. After hours dispatching is handled through the Coffey County Sheriff"s Office (620) 364-2123.
The Police Department consists of six patrol officers, a chief, a full-time animal control officer and a police records clerk.
BURLINGTON POLICE OFFICERS
ELIGIBILITY LIST FOR FUTURE OPENINGS
Burlington Police Department is accepting applications for an eligibility list for patrol officers for anticipated future openings. This list will be active for up to one year.
A Burlington Police officer performs general police work in the protection of life and property through the enforcement of laws and ordinances. Applicants must be a high school graduate or equivalent, at least 21 years of age at the time of appointment and a U.S. citizen. Applicants must have or be able to obtain a valid Kansas driver's license prior to employment. Residence within five miles of the corporate limits of the City of Burlington is required within six months of employment.
Qualifications include: Kansas Law Enforcement Training Center (KLETC ) or equivalent certification and some college desired, no criminal record is required, and previous experience is a plus. Salary is dependent on qualifications. Uniforms and all equipment are furnished. The City of Burlington offers an excellent benefits package, including health insurance, payroll savings, uniform cleaning allowance and more. Resumes must be accompanied by an application form.
APPLICATIONS may be obtained from the Burlington Police Department.
= = = = = = = = = = = = = = = = = = =
ANIMAL CONTROL
The animal control facility is located at 716 S. Fifth Street in Burlington. The animal control officer may be reached at (620) 490-0416, or call the police department at (620) 364-8757.
= = = = = = = = = = = = = = = = = = =
DRIVERS LICENSES AND VEHICLE TAGS
Driver's licenses and vehicle tags are handled by the Coffey County Treasurer's Office at the Courthouse, 110 S. Sixth Street. They may be reached at (620) 364-5532.
= = = = = = = = = = = = = = = = = = =
UNCONVENTIONAL VEHICLE PERMITS
Permits for unconventional vehicles for golf carts, all-terrain vehicles, and others are available at Burlington City Hall, 1013 N. 4th Street, Burlington. For additional information, please visit city hall or call (620) 364-5334.