Electric Utility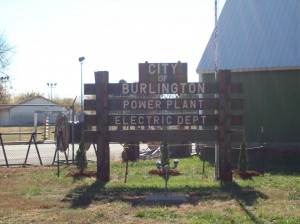 Superintendent
Alan Schneider
P.O. Box 207; 119 S, 12th
Burlington, KS 66839
Telephone:  620-364-5575
Cell : 620-203-0338
Fax: 620-364-2996
For Emergency or after hours calls please call
the Coffey County Sheriffs Office 620-364-2123.
Electric Plant/Production: 
Denny Noonan, Senior Electric Plant Maintenance Operator
Telephone: 620-364-5514    Fax: 620-364-2996
The Burlington Municipal Electric Company and Distribution System is owned and operated by the City.  Electricity is provided by the City-owned plant with interaction with a major power company to assure a more adequate power source for electricity improvements. Extensions have been made to the system to provide a reliable source of electricity for residential and industrial growth.
ELECTRIC RATES & INFORMATION
See the Utilities section of this website.